Have you imagined packing your camera in, sunscreen, wears, and navigating through the Euro-trip of a lifetime? moving from Italy to Austria, Latvia, Iceland, and so on with only one visa. As a Nigerian, before you could take rides for this navigation, you would need to apply for a Schengen visa.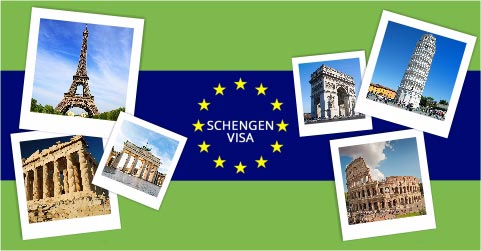 What is a Schengen visa?
The Schengen agreement was entered by the five members of the ten member countries of the European Union to allow free movement within the countries. If you are navigating through the selected countries of Europe, you will only need one visa, that's the Schengen visa.
Countries that require a Schengen visa
We have about 26 countries in the Schengen area, they are:
Austria
Belgium
Czech Republic
Denmark
Estonia
Finland
France
Germany
Greece
Hungary,
Iceland
Italy
Latvia
Liechtenstein
Lithuania
Luxembourg
Malta
Netherlands
Norway
Poland
Portugal
Slovakia
Slovenia
Spain
Sweden and
Switzerland.
Norway, Iceland, Switzerland, and Lichtenstein are part of the European Free Trade Association (EFTA), while 22 others are the European Union (EU),  members states.
Types of Schengen visa
The type of visa you apply for depends on your duration and purpose of visit. Basically, there are three types of Schengen visas, they are:
UNIFORM SCHENGEN VISA (USV)
This type of visa allows anyone to travel to and around any country in the Schengen area for a maximum of 90 days. The uniform Schengen visa is subdivided into 2 categories, namely:
Category A- It is known as an airport transit visa. And it's for someone who is travelling to a non-Schengen country and is waiting for a connecting flight in the airport of a Schengen country. This type of visa is issued either as:
A-type transit visa: You cannot enter the Schengen area and cannot leave the airport's international zone with this type of visa.
B-type transit visa: With this visa, the holder can travel through the Schengen area on their way to the final destination outside the Schengen area. It's valid for 5 days.
Category C- This type of visa is a short-term visa for anyone who wishes to visit and stay in any Schengen country. The duration of the visa is indicated on the visa. Depending on the purpose of the travel, this visa may be:
Single entry: Entry into any of the Schengen countries is allowed once. After leaving the country, re-entry is not allowed. People who visit as tourists are usually issued a single entry visa.
Double-entry: The holder of this visa is entitled to two entries into the Schengen area. Even if the visa is still valid, you cannot enter the country again once you exit twice.
Multiple entries: The multiple entries do not restrict the number of entries, but it's valid for only 90days for every 6 months, starting from the entry date. Multiple entries may be more convenient for people who visit for medical, business, or other purposes. You will be able to enter the country unlimited times during the days of the visa.
LIMITED TERRITORIAL VALIDITY VISA
This visa restricts you to only 1 Schengen country. You are allowed to travel and stay in one Schengen country, which would be the one you specified when you applied for the visa. This means you would need a separate visa to travel to other Schengen countries.
NATIONAL VISA
This visa is for you to visit any Schengen country for study, work, permanent residence, or other purposes to stay over 90 days. This visa is issued as single or multiple entries.
Requirements for Schengen visa
Visa application form
Two recently taken photos must be attached
A valid passport- The passport shouldn't be older than 10 years, and it should be valid for at least three more months beyond the date you plan to leave the Schengen area. Older passports with visas on them (if you have any).
Round trip reservation or itinerary. It must include dates and flight numbers specifying entry and exit from the Schengen area. You can use the visa consultation services. Most of your visa requirements, such as flight itineraries, hotel reservations, along free consultation, would be handled by them over email.
Travel insurance policy. A document that proves you have travel health insurance for the whole Schengen territory, with a minimum coverage of 30,000 euros in case of any medical emergency as illnesses, accident and even repatriation in case of death. You can easily purchase one online from AXA Schengen.
Proof of accommodation. A document that shows where you will be accommodated throughout your stay in Schengen. This can be one of the following:

A hotel/hostel booking.
A rental agreement.
A letter of invitation. From a host at whose house you will be staying.

Proof of financial means. Evidence that you have enough money to support yourself financially throughout your stay in the Schengen. This can be one of the following:

Bank account statement – that shows you have enough money in your account for the trip. The statement shall be no older than 3 months.
Sponsorship Letter – by another person that confirms they will be financially supporting your trip to the Schengen. For this letter to be valid, it must be accompanied by the sponsor's bank statement, no older than three months.
A combination of your bank account statement and a letter of sponsorship.

Proof of your paid visa fee.
Cost of Schengen visa
Currently, the cost of a Schengen visa is about €80 (the equivalent of 38,839NGN) for adults and €45 (the equivalent of 21,843NGN) for children from 6 to 12 years old.
How to apply for a Schengen visa
First, determine the type of visa you need depending on your duration and purpose of visit to the Schengen area.
Fill out your already downloaded application form correctly. Make sure to fill every required gap; personal information, background details, and other details regarding your trip honestly.
Make sure that all the required documents are available for submission. They are a crucial part of your visa application.
If you plan to visit more than one country, apply at the country's consulate/embassy that you will be spending most of your time in. Still, if you will spend an equal amount of time in the countries you will be visiting, then apply for your visa with the country you will visit first.
You can go to "VFS Global" to proceed with your application. They handle all Schengen visa applications from nigeria.
After your application process, expect an interview at the embassy of your chosen country. It will record your biometric data and, you would be asked questions about your intended trip, travel details, and some personal questions.
 If all the processes are met accurately, you should get a response in 2 or 3 months. 
In some cases where the visa application is denied, it could be because the consular officer does not have all of the information required to qualify the applicant for a visa.
When your visa is approved and ready, they will notify you via any option you chose in your application form(SMS or email). And now all you have to do is get ready for your trip and enjoy.